John Dupuis
All I know is what's on the internet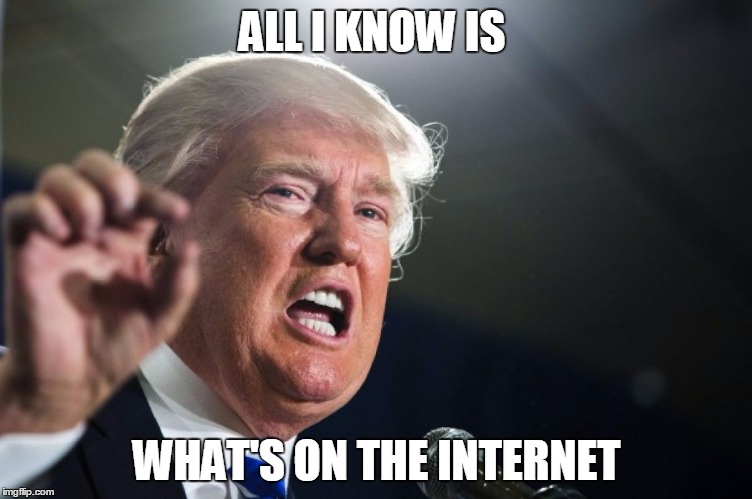 What's out there
Peer review
CRAAP
Some examples to work through together
Some useful resources
Adademic integrity & good citation practice
Flow of Scientific Information
Flow of Scientific Information, University of Waterloo, 2007
Patents: government granted license to an invention
Journals: Research results are presented in periodicals
Books:
Reference: encyclopedia, tables, data collections, properties
Manuals: lab methods, programming language, operating systems
Monographs: general topics
Conference proceedings:
Research results presented at a meeting. Often peer-reviewed, but not always.
Technical specifications: how a device of component works i.e. circuit diagrams
Code library: database of source code listings or linkable subroutines
What is peer-reviewed?
Peer-reviewed or refereed articles are articles that have gone through a vigorous process of approval by a panel of experts in that particular field before publication. Through this process of selection, the idea is that these articles are considered credible sources of information and the best in the field.
How to identify a peer-reviewed article?
To identify if an article is peer reviewed or referred you must check if the journal that the article is published in is peer-reviewed. The link provided demonstrates the steps neccessary to identify if a journal is peer reviewed by using Ulrich's International Periodical Directory.
Currency: the timeliness of the information
When was the information published or posted?
Has the information been revised or updated?
Is the information current or out-of date for your topic?
Are the links functional?
Relevance: the importance of the information for your needs
Does the information relate to your topic or answer your question?
Who is the intended audience?
Is the information at an appropriate level?
Have you looked at a variety of sources before choosing this one?
Would you be comfortable using this source for a research paper?
Authority: the source of the information
Who is the author/publisher/source/sponsor?
Are the author's credentials or organizational affiliations given?
What are the author's credentials or organizational affiliations given?
What are the author's qualifications to write on the topic?
Is there contact information, such as a publisher or e-mail address?
Does the URL reveal anything about the author or source?
Accuracy: the reliability, truthfulness, and correctness of the content
Where does the information come from?
Is the information supported by evidence?
Has the information been reviewed or refereed?
Can you verify any of the information in another source?
Does the language or tone seem biased and free of emotion?
Are there spelling, grammar, or other typographical errors?
Purpose: the reason the information exists
What is the purpose of the information?
Do the authors/sponsors make their intentions or purpose clear?
Is the information fact? opinion? propaganda?
Does the point of view appear objective and impartial?
Are there political, ideological, cultural, religious, institutional, or personal biases?
(h/t and a nice printable worksheet)
Scholarly vs. Popular Sources
CRITERIA

SCHOLARLY PUBLICATIONS

POPULAR PUBLICATIONS
(e.g. magazines, newspapers, etc...)

Advertising

may contain selective advertising

will contain extensive advertising

Authors & Audience

written by and for academics or researchers

written by staff or freelance writers for a broad audience

Format & Graphics

may include graphs and charts;
seldom contain glossy pages or pictures

often slick and glossy;
will contain photographs, illustrations and/or drawings

Language

may use discipline-specific language or jargon

uses everyday language that is accessible to the average reader

Length

lengthy articles with in-depth coverage of topics

shorter articles: usually provide broad overview of topics

Publishers

generally published by a professional organization

published for profit

Purpose

to inform, report, or make available
original research to the scholarly world

to entertain, inform, or persuade

Sources

footnotes and/or bibliographies

rarely cite any sources
Using the CRAAP criteria, for each of the items below we need to establish what kind of document it is and whether or not we will use it. If we do decide to use it, we need to understand the context in which the document is useful.
York University Library Catalogue

Contains YUL's book, ebook, and journal holdings.

Toronto Public Library

Additional books are available through your local public library, especially popular sources like cookbooks.

Google Books

The full text of many books is searchable through Google Books. Look up a book here to see if it is worth borrowing or tracking down.
Academic Integrity & Citation Style Guides
SPARK

SPARK, the Student Paper and Academic Research Kit, is an e-learning resource to help students succeed at written academic assignments. The project was developed collaboratively by York University Libraries, the Writing Department (Faculty of Liberal Arts & Professional Studies), and Learning Skills Services (Counselling and Disability Services).

The Chicago Manual of Style Online

The official guide to Chicago Style.

OWL Purdue Chicago

Purdue University's guide to Chicago Style.

APA Style Guide

The official guide to APA Style. Print only. Call number: BF 76.7 P83 2010 (Scott Library & Steacie Library)

OWL Purdue APA

Handy guide to APA style created by Purdue University.

MLA Handbook for Writers of Research Papers

The official guide to MLA style. Print only. Call number: LB 2369 G53 2009 (Scott Library and Bronfman Library)

OWL Purdue MLA

Purdue University's guide to MLA style.

Footnotes and Bibliographies

York University Libraries' guide to commonly used citation styles, including APA, MLA, Chicago, and Harvard.